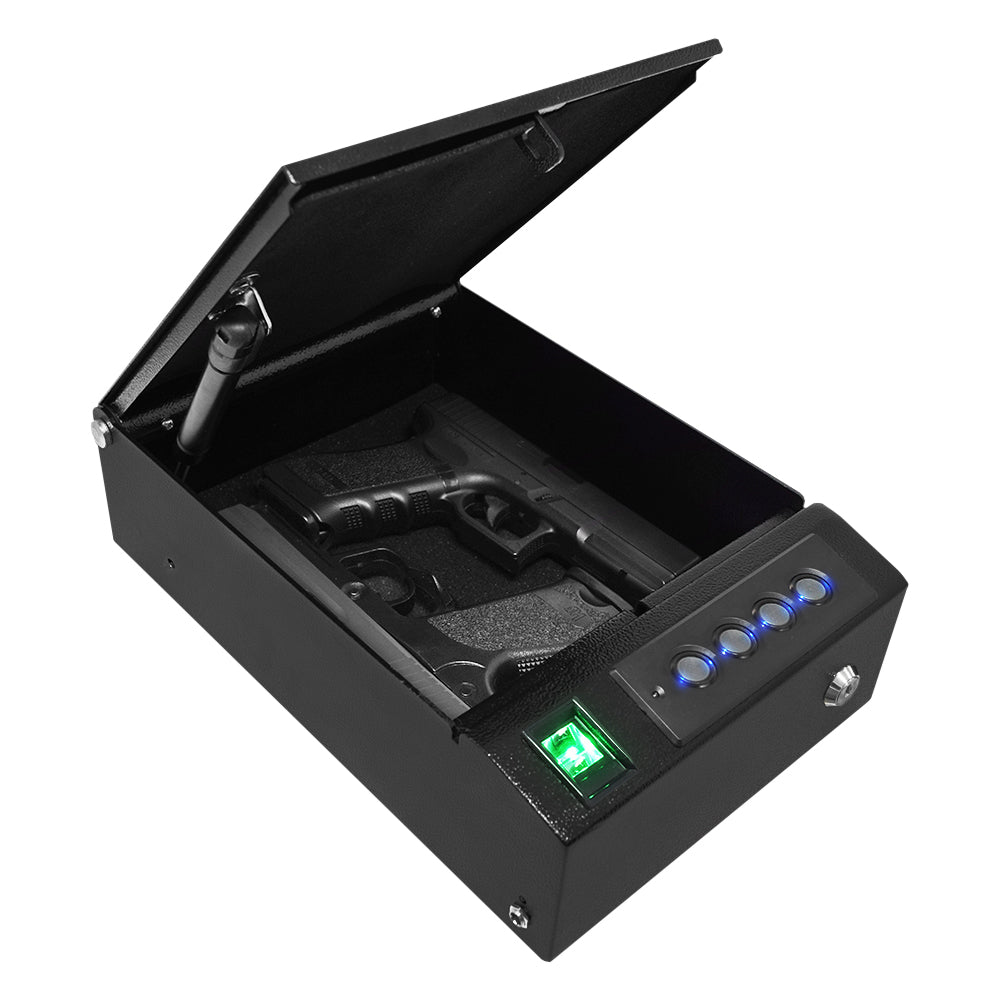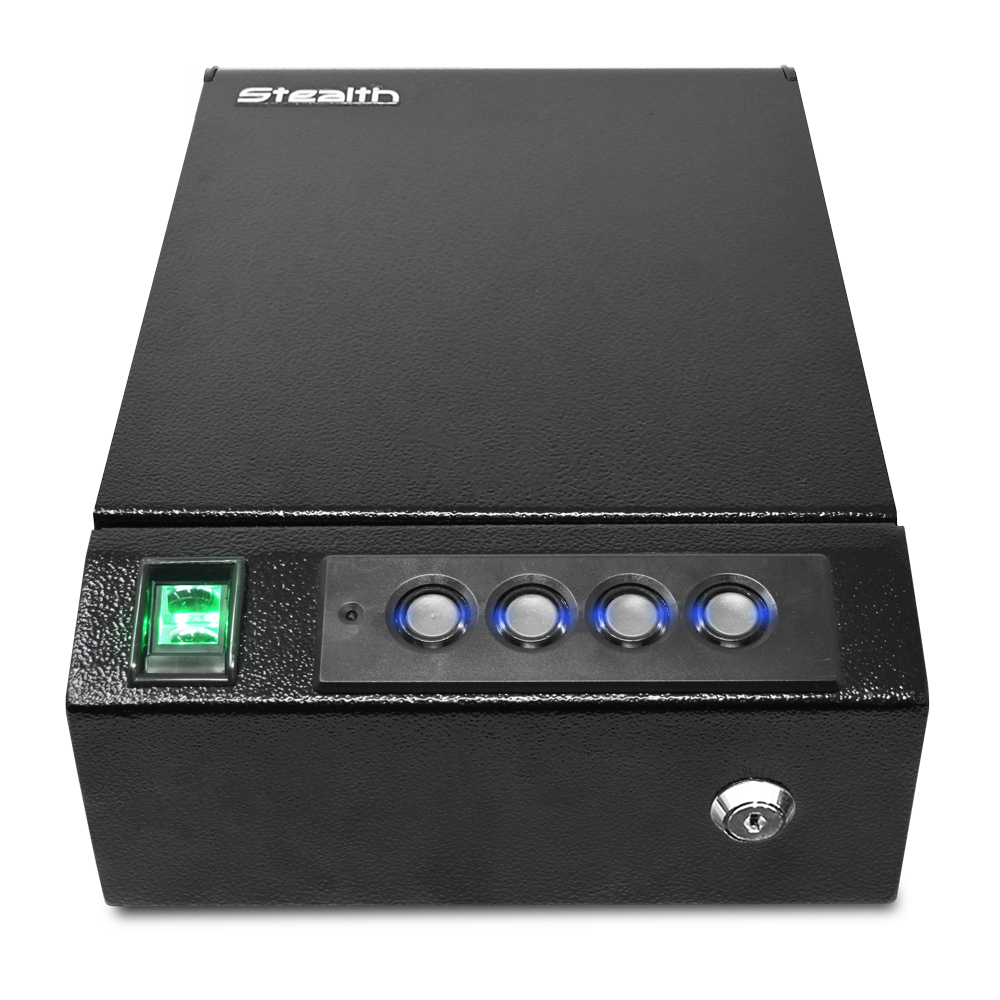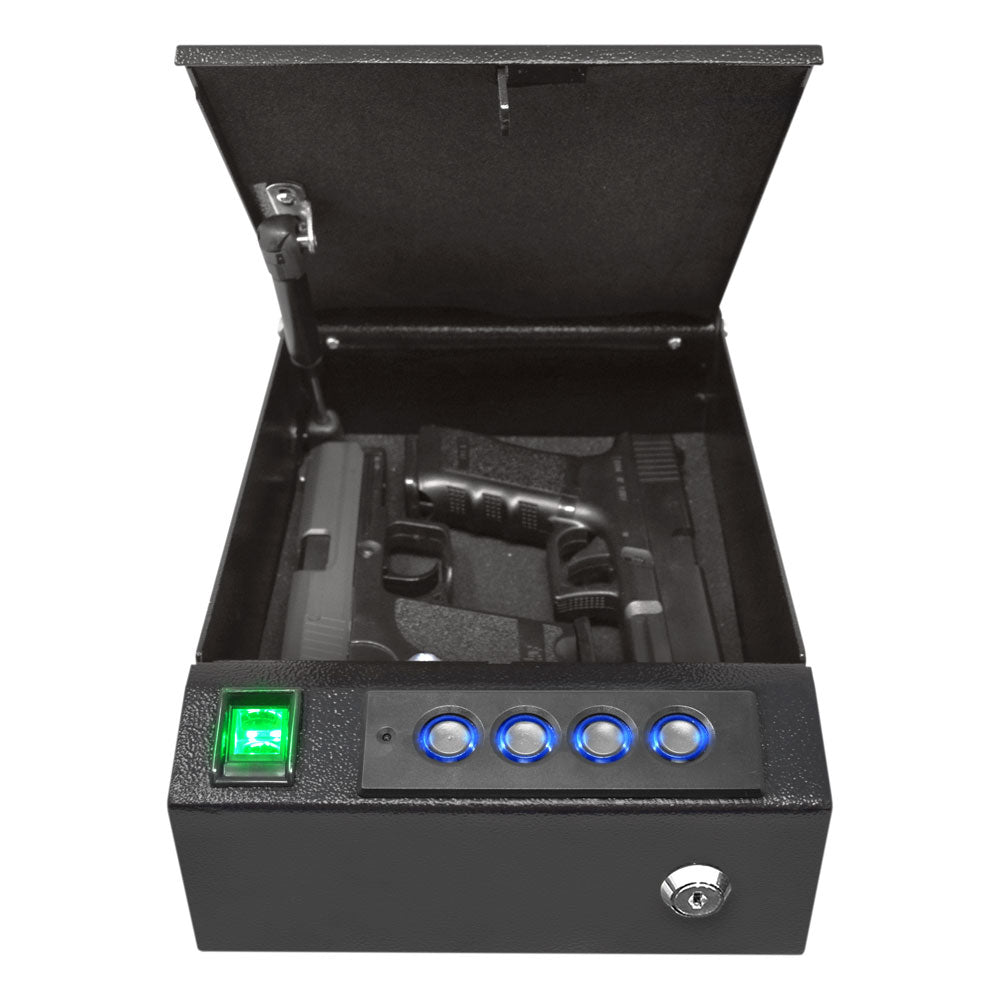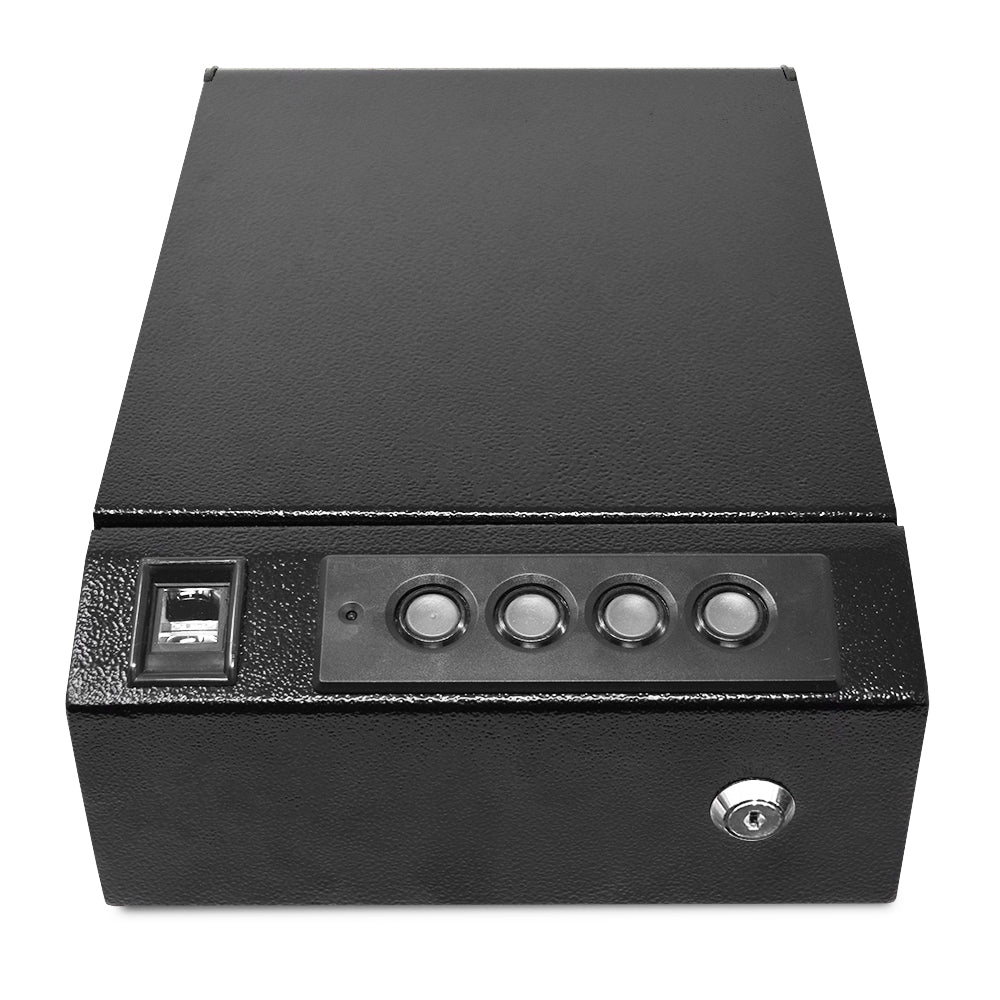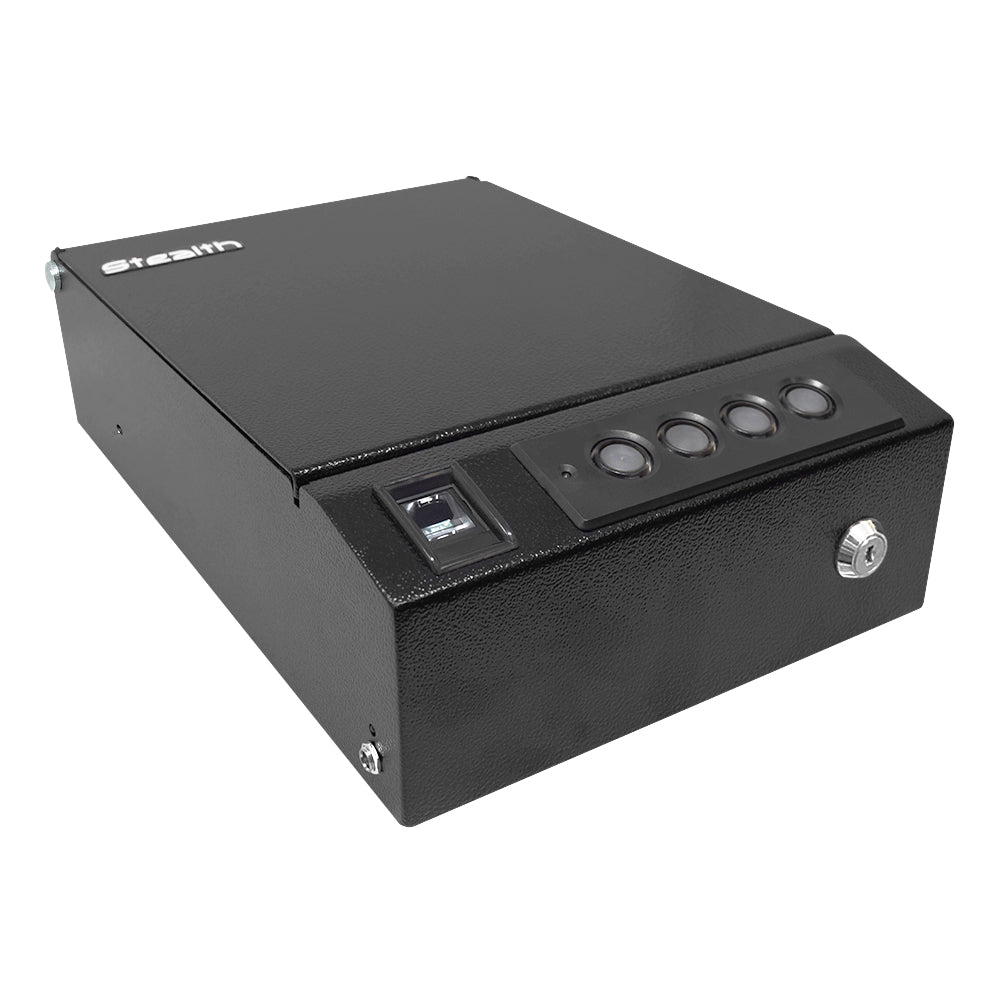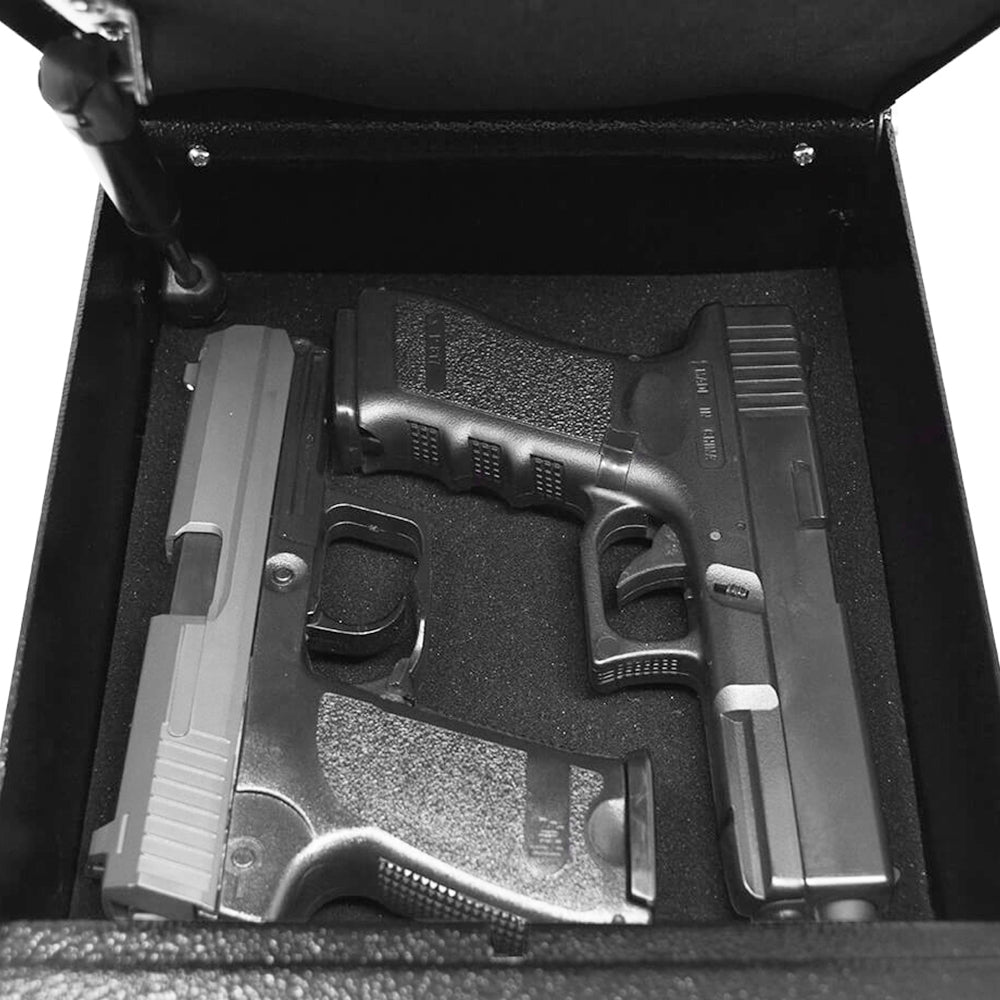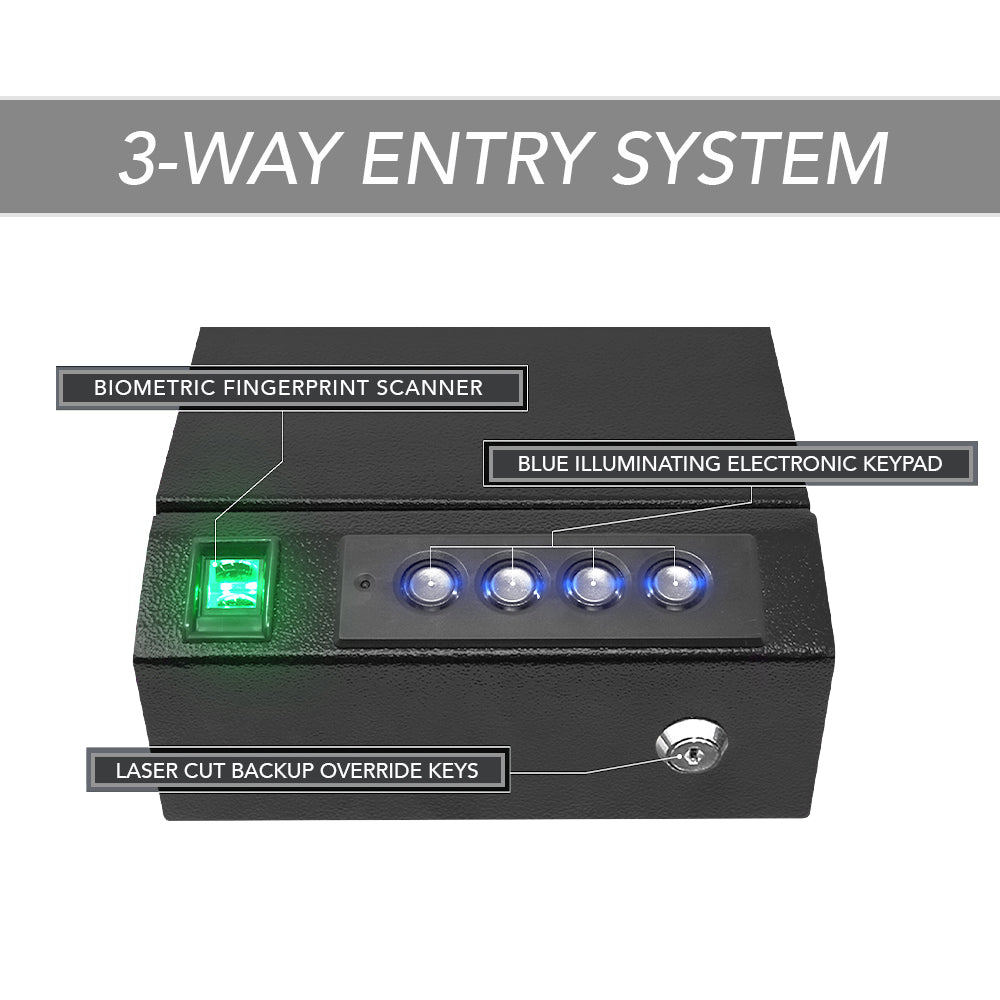 Stealth | Swift Vault 2.0 Quick Access Biometric | Handgun Safe
Buy Now Pay Later. As low as 0% APR financing.
What are you trying to protect? 
We Make Security Simple & Reliable for Your Peace of Mind. Stealth is an American Company that is always innovating products to give you the top level of security with high quality materials at an affordable price.
This Quick Access, Top Opening Biometric Handgun Safe is the perfect size and shape for your nightstand or drawer. Its Pop-Up door assisted with a Gas Piston that gives you immediate access to the interior of the safe.
Features:
Internal Dimensions: 3 ¼"H x 8 ¼"W x 9 ¾"D
Handgun Capacity: Fits up to 2 Handguns
Burglary Rating: California DOJ Approved Firearm Safety Device
12 Gauge Steel Body
14 Gauge Steel Folded Door
3-Way Access System
Biometric Fingerprint Scanner
6-Digit Electronic Keypad
Mechanical Backup Override Keys
High Strength Locking Latch
Anti-Pry Tabs
Internal Hinge
Solid Steel Construction
Optional Silent Mode
Free Security Cable
Quick Access Shock-Assisted Pop-Up Door
White Interior Light
Thick Foam Interior Pad
Power Port & Battery Compartment
CA DOJ Approved
1 Year Parts & Labor Warranty
| | | | |
| --- | --- | --- | --- |
| Model  | Dimensions | Approx Weight  | Color |
| Swift Vault 2.0 Quick Access Biometric | 3 ¾"H x 8 ½"W x 12 ¾"D | 10 lbs. | Black |
|   |   |   |   |
The new & improved Stealth SwiftVault 2.0 top-opening, quick-access biometric pistol safe pops open after a quick scan of your finger. Its pop-up door allows for incredibly fast retrieval of your handgun in a home defense scenario making it perfect for your nightstand or drawer.
New on the SwiftVault 2.0 safe, comes no exposed holes, a new protective cover over the biometric scanner button, an internal protective anti-tamper mechanism, a high security pick-proof laser-cut key override, thicker foam padding and a high-strength security cable included.
The all-new locking system features a biometric fingerprint scanner - that can store up to 31 different fingerprints, a quick access Electronic Keypad with a 6-digit code using 4 push buttons that illuminate with a blue light after the first button is activated, and backup override key. With audible feedback, you'll know the button has been pushed and after the correct finger is scanned or combination is completed, the shock-assisted door pops open to present your pistols. An optional Stealth Silent Mode allows for zero audible feedback on the keypad and scanner making it totally silent.
The Stealth SwiftVault 2.0 is built of heavy 12-gauge steel construction in the body and 14-gauge steel in the door making it very robust for its size. The door is built with a folded steel edge that prevents access to the change combination button through prying and features an internal hinge that runs a steel rod through the door which is screwed in place through the inside of the safe adding considerable strength. Finally, the anti-impact latch hooks into the safe's body and offers maximum pry resistance.
After the door pops open, the white interior light activates making it easy to see your handguns even in the dark. The top and bottom of the safe's interior is lined with high quality foam that is perfect for storing and protecting up to two handguns. With its large internal height, you can store any type of pistol including full-size, compact, sub-compact and revolvers.
The Stealth SwiftVault 2.0 runs off a 9 Volt battery or you can leave the safe plugged in for faster access via the included power port. Both battery and power cable can be installed at the same time, if desired.
On the bottom of the safe are 4 placements for securing the safe to a fixed surface. The safe also now comes with a high strength security cable so no one can steal the safe itself.
The SwiftVault 2.0 comes with a 1-year parts and labor warranty.
This safe is a California Department of Justice Approved Firearm Safety Device.
VIDEOS:
Product Video: https://youtu.be/9nS26GLLhEU
Instructional Video: https://youtu.be/Dqhco6FXCUI
Product Review Video: https://youtu.be/EDLjAyYiZiw
Choose options