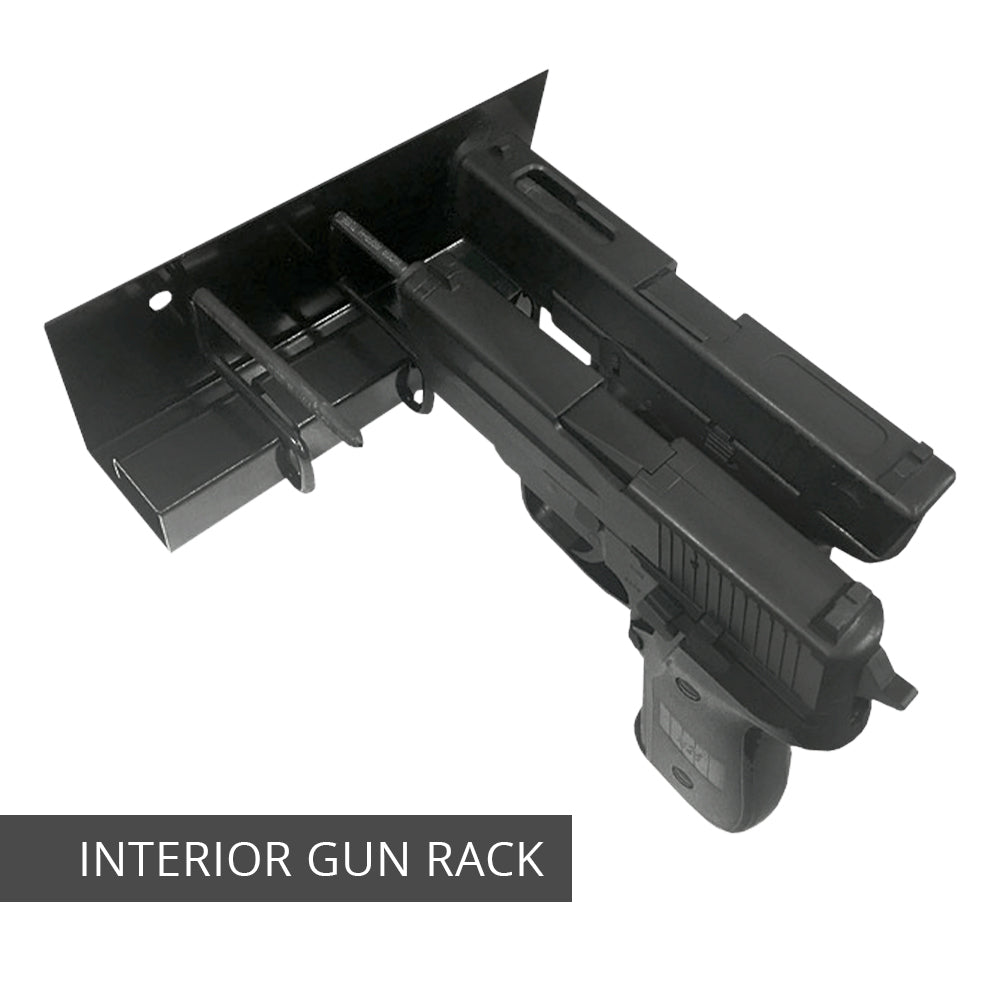 Stealth | Handgun Hanger Safe | Handgun Vault
Buy Now Pay Later. As low as 0% APR financing.
What are you trying to protect? 
We Make Security Simple & Reliable for Your Peace of Mind. Stealth is an American Company that is always innovating products to give you the top level of security with high quality materials at an affordable price.
This is a Quick Access Electronic Handgun Safe that gives the owner immediate access to the interior of the safe.
The spring-loaded door quickly drops once the correct combination is entered. The heavy door is supported with a speed reducer to catch the fast-opening door for a soft finish.
FEATURES
3/8" Thick 2-Piece Solid Steel Recessed Door
16 Gauge Steel Body
High Strength Locking Latch
Anti-Pry Tabs
Handgun Capacity: Fits up to 5 Handguns
Solid Steel Construction
3 Handgun Hangers Inside
Holds 3 Handguns at the Ready Position
Rods will not work with .22 Caliber
Rods have scratch resistant coating
Quick Access Spring-Loaded Drop-Down Door
2-Way Access System
6-Digit Electronic Keypad
4 Blue Illuminating Push Buttons
Mechanical Backup Override Keys
2 Keys Included
Laser Cut High Security
Red Interior Light
Interior Lined with High Density Foam
Speed Reducer on last ½" of Door Opening for Quiet Entry
Power Port & Battery Compartment
1 Year Parts & Labor Warranty
New Welded Steel Housing – Straw/Pick Proof
Optional Silent Mode
Free Security Cable
4 Bolt Down Holes
Internal Dimensions: 7 ¾"H x 8 ½"W x 11"D
Burglary Rating: California DOJ Approved Firearm Safety Device
| | | | |
| --- | --- | --- | --- |
| Model  | Dimensions | Approx Weight  | Color |
| Handgun Hanger | 9"H x 9"W x 12"D | 19 lbs. | Black |
| |   |   |   |
With a completely revolutionary design, the Stealth Electronic Handgun Hanger Safe allows you to have your choice of three handguns at the ready and an additional two handguns in the bottom storage for back-up.
Inspired by tactical enthusiast's desire for handguns at the ready, there is nothing faster than a drop-down door and your choice of 3 "hanging" handguns to choose from. When speed and your family's protection is the most important factor, there is no better option than the Stealth Handgun Hanger Safe.
The locking system features a quick access Electronic Keypad with a 6-digit combination with four blue-illuminating push buttons and two backup high security laser cut override keys. The lock comes with audible feedback, so you'll know each button has been pushed and after the correct combination is completed. The safe also has an optional Stealth Silent Mode to provide quiet entry into your safe. When the correct code is entered, the spring-loaded door flips down to present your pistols. As the door reaches its last 1/2" of opening, a speed reducer activates and allows the door to stealthily open while the red interior light simultaneously turns on allowing you to easily see inside, even in the dark.
With all solid steel construction, a 3/8" thick 2-piece solid steel door and the battery located on the inside, this safe is insanely difficult to tamper with and extremely pry-resistant, preventing unauthorized access and leaving you feeling confident that your children will not be able to access your handguns. New and improved, this handgun safe is totally Straw and Pick Proof with the addition of a welded steel lock housing that prevents anything from tampering with the release mechanism.
The Stealth Electronic Handgun Hanger safe now includes a power cable that can be plugged in via the all-new power port or can run off of one 9-volt battery located on the inside. Note, both the power cable and battery can be installed at the same time, if desired.
Located on the bottom of the safe are 4 bolt down holes and a free security cable is included to ensure a thief is unable to just pick up the safe and open it on their own time.
The entire inside of the safe is lined with high density foam on all sides and the rods have a smooth, scratch resistant coating to ensure no scratches on or inside your most prized handguns. It's finished with a Stealth tactical black paint job and maximum capacity for the Stealth Handgun Hanger Safe is 5 handguns and 2 magazines.
Stealth believes in and stands behind the Handgun Hanger Safe by offering a one-year warranty.
For California Customers:
This safe is a California Department of Justice Approved Firearm Safety Device.
VIDEOS:
Product Video: https://youtu.be/Ft4bSqsFScU 
Instructional Video: https://youtu.be/NKK0LegeU70 
Stealth | Handgun Hanger Safe | Handgun Vault
Sale price

$289.99
Regular price
Buy Now Pay Later. As low as 0% APR financing.
Choose options