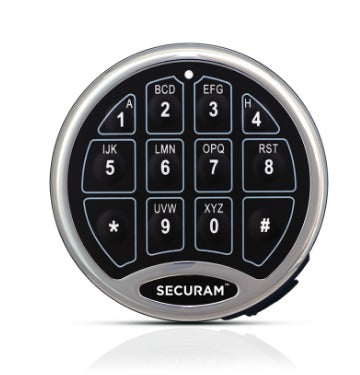 SECURAM | BASIC II | ELECTRONIC LOCK
Buy Now Pay Later. As low as 0% APR financing.
SafeLogic Basic Safe Lock
The SafeLogic Basic is a very reliable and robust safe lock system ideal for most applications.  The SafeLogic Basic features SECURAM's rugged stainless steel construction.
This EntryPad can be paired with any of the 4 SECURAM Lock Bodies: SwingBolt, DeadBolt, SpringBolt and StrikeBolt.
Simple to Use and Reliable
• Enter your 6 digit code and turn the safe handle. That's it.
• Easy keypad programming allows for code changes, additions, and deletions. Enable and Disable function also available.
• Every SECURAM lock undergoes a 2,000 cycle quality management program before it leaves the manufacturing facility.
• Unprecedented commitment to quality and reliability.
Features
• 2 Codes: Manager Code and User Code
• 9 Volt Battery powers the system
• 10,000+ openings on a 9 Volt battery
• 5 minute Penalty LockOut upon entry of 4 incorrect codes
• Reset button to set the lock back to factory default
• Standard footprint and mounting pattern, easy retrofit for any mechanical or electronic safe lock​
• SureLock Battery Compartment for easy Battery replacement, without removing the entrypad from the safe door.
• Can be paired with any other SECURAM motorized safe lock bodies.
• Finishes available: Chrome, Brass, Black Chrome
Buy Now Pay Later. As low as 0% APR financing.
Choose options