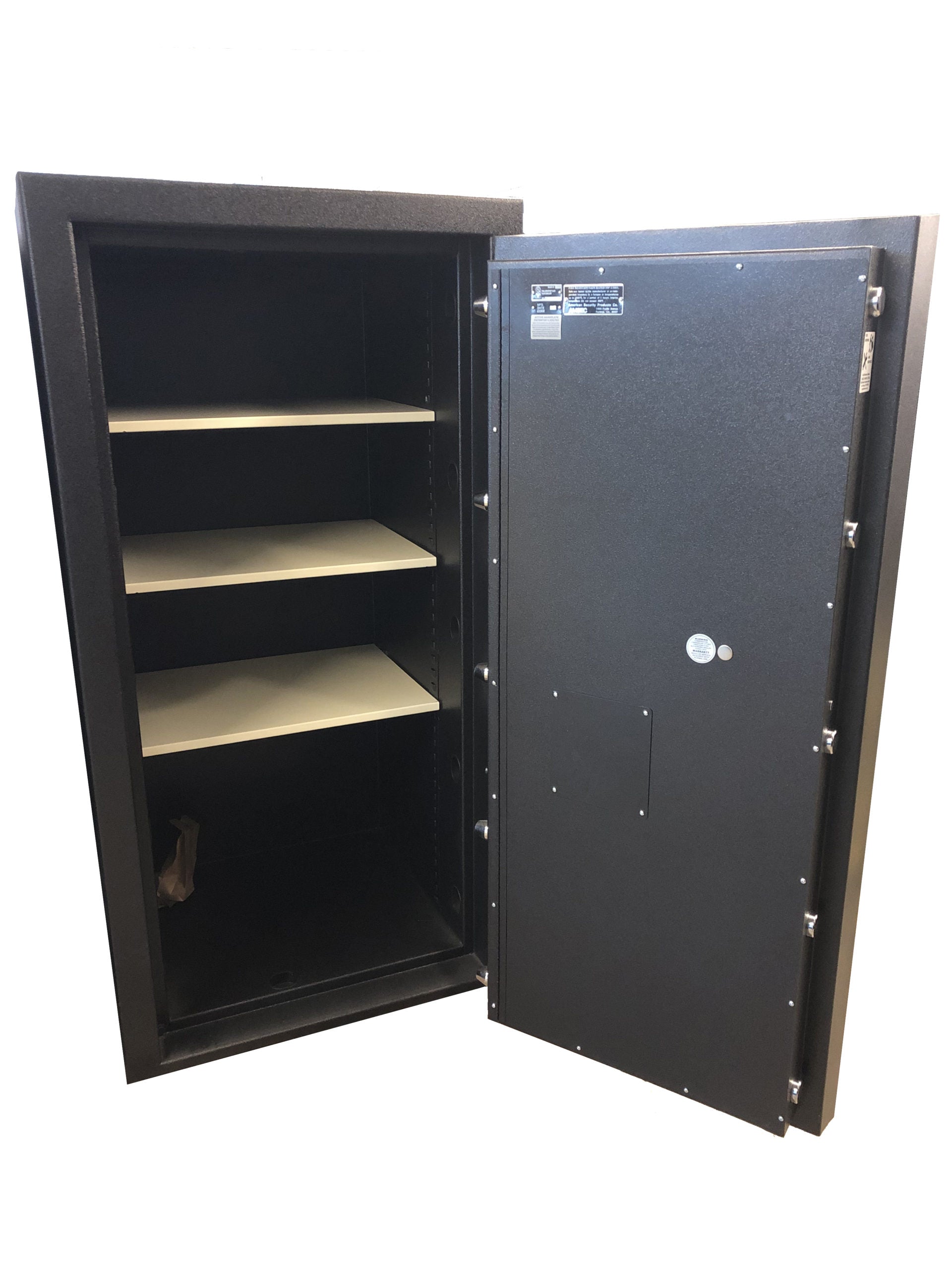 AMSEC | TL30 AMVault | CF5524 | TL Rated Safe
Sale price

$7,698.75
Regular price

$10,265.00
( /)
Buy Now Pay Later. As low as 0% APR financing.
A step up from its little brother the TL-15, TL-30s adds an additional $100,000 worth of insurance. The TL-30 Amvault is also rated for an additional 15 minutes than the TL-15 for a grand total of 30 minutes.
Insure up to $250,000!
| | |
| --- | --- |
| Weight | 2679 lbs. |
| Outside Dimensions | 62"H x 31"W x 29.5"D |
| Fill Type | Proprietary High Strength Concrete Mix |
| Fire Protection | 120-minute |
| Burglary Protection (Safe Rating) | TL-30 |
| Customizable | Yes |
| Lock | ESL10, ESL5, LP Rotobolt Redundant Lock, Mechanical Lock with Key-Locking Spy-Proof Dial, Mechanical Lock with Spy-Proof Dial |
| USA-made or Foreign-made | USA-made |
| Safe Type | Amvault, Composite Safe, High Security Safe, TL-30 |
| Color Options | Charcoal Gray |
| Texture or High Gloss | Textured |
| Hardware Colors | No Option |
The technical definition of a TL-30 safe is as follows: "Signifies a combination-locked safe designed to offer a moderate degree of protection against attack by common mechanical and electrical tools and any combination of these means. Has successfully resisted entry* for a, net-working time of 30 minutes; when attacked with common hand tools, picking tools, mechanical or portable electric tools, grinding points, carbide drills, pressure applying devices or mechanisms, abrasive cutting wheels and power saws." Basically, they take every tool a smart burglar would use and punish the safe for 30 minutes. If the safe survives, it is rated TL-30 and Qualifies for Mercantile & Broadform Insurance Class F with a Bank Rating of G. So, I'm sure you're wondering, how do they accomplish this?
Let's start with the massive 6" door, constructed of a 3" defense barrier of outer and inner steel plates creating a single structure encasing a unique, high-density fire and burglary resistant composite material. This defense barrier houses a proprietary amalgamation of nuggets and steel fibers to withstand concentrated attacks with the most sophisticated equipment used by burglars. On the door lies a U.L. listed Group II Key Changeable combination lock that is protected by a drill shattering hard plate and two additional spring-loaded devices. The hinges offer a vertical height adjustment and utilizes an oil impregnated bearing ensuring easy door operation.
The locking mechanism is equipped with ten massive 1-1/2" diameter chrome plated solid steel locking bolts that move deep into the body's protected bolt chambers. The body is formed to combine a total protective thickness of 3-1/2" enclosing a high-density fire-resistant composite material with nuggets and steel fibers. The reinforced drill resistant door frame protects the door and each individual bolt chamber from severe side attacks. The proprietary inner barrier protects against peeling attacks.
This TL-30 safe has been tested for up to two hours of fire protection at 1850° and successfully maintained an interior temperature of less than 350° for the entire duration of the test.
Not only is this safe made right here in the USA but it is also backed by a One Year Parts and Labor Warranty!
When you plan on placing up to $250,000 worth of value in your safe, you can trust the AMSEC CF TL-30 series.


Constitutional Rights Factory Rebate Offer
Champion Safe is offering a huge mail-in rebates on any Champion, Superior, Safe Guard and American Rebel Safe.
September 9 - October 31, 2023
| | |
| --- | --- |
|  Safe Cost | Rebate |
| $500-$1,499 | $100 |
| $1,500-$2,499 | $200 |
| $2,500-$4,999 | $400 |
| $5,000 & Up | $600 |
Come to the store to receive this rebate.

AMSEC | TL30 AMVault | CF5524 | TL Rated Safe
Sale price

$7,698.75
Regular price

$10,265.00
Buy Now Pay Later. As low as 0% APR financing.
Choose options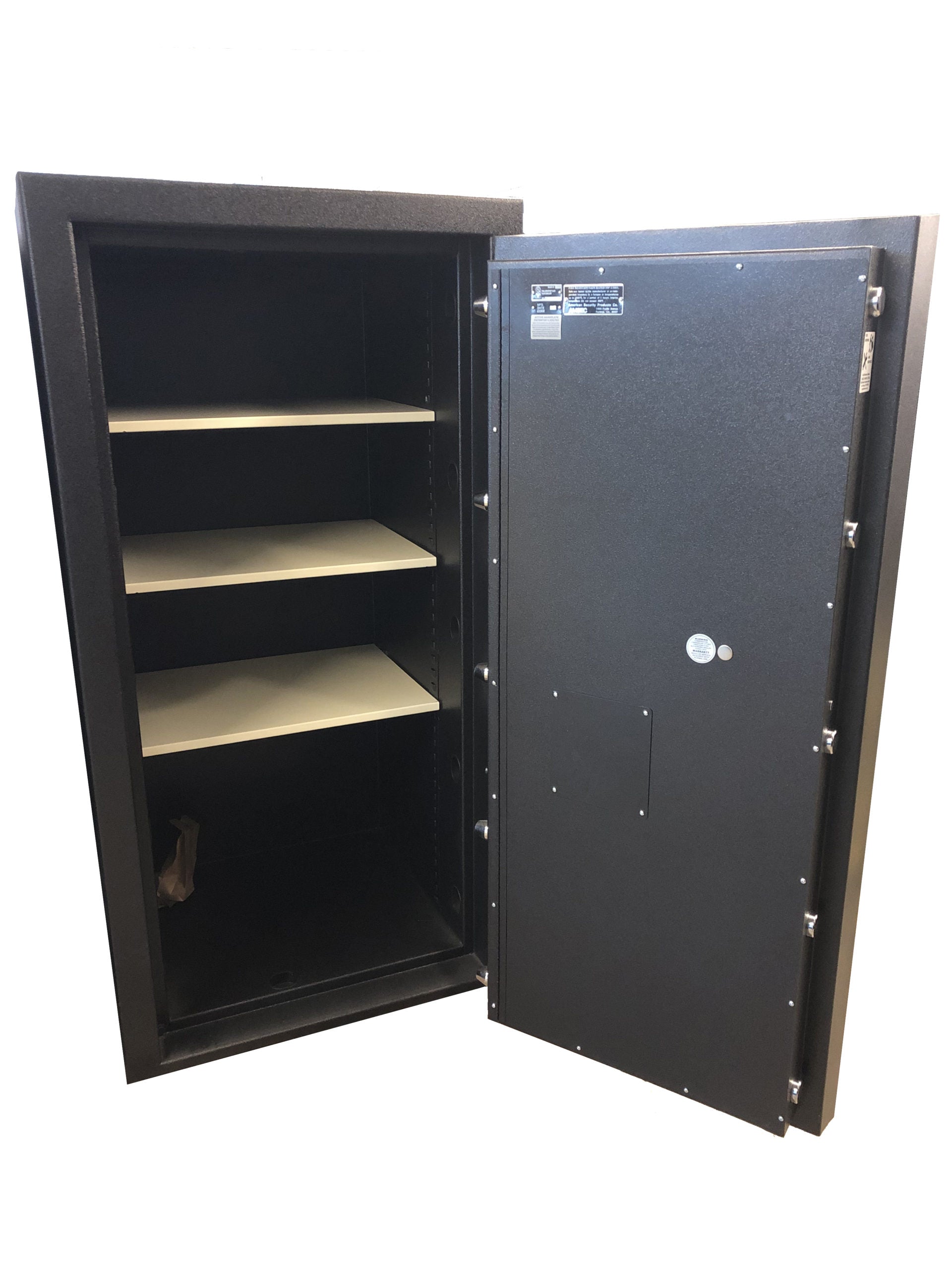 Sale price

$7,698.75
Regular price

$10,265.00
( /)
Buy Now Pay Later. As low as 0% APR financing.
View details