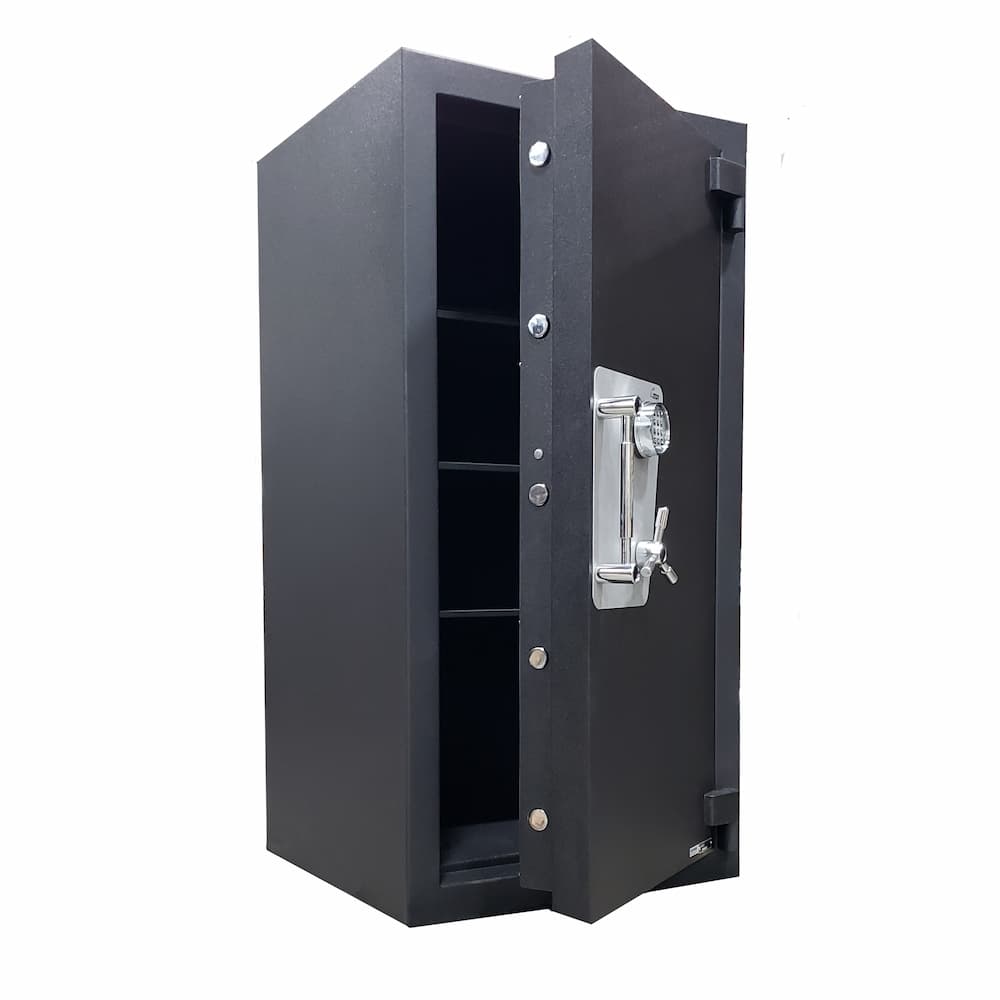 AMSEC | CE5524V | AmVault | High Security Safe
Buy Now Pay Later. As low as 0% APR financing.
THE BEST IN HIGH SECURITY PROTECTION
If you're looking for a safe insurance companies will insure, then this is the safe for you!
Nearly every type of safe you see on the market has either a B-Rate or RSC (Basic Burglary Certification), meaning a validated safe can resist a break-in up to 5 minutes, using common hand tools!
The massive 6" door, constructed of a 3" defense barrier of outer and inner steel plates creates a single structure encasing made of high-density fire and burglary resistant composite material. This defense barrier on the AMSEC CE5524 is to withstand concentrated attacks with the most sophisticated equipment used by burglars.
The door of the AMSEC CE5524 has a U.L. listed Group II Key Changeable combination lock that is protected by a drill shattering hard plate and two additional spring-loaded devices. The reinforced drill resistant door frame protects the door and each individual bolt chamber from severe side attacks; with the inner barrier protecting against peeling attacks.
The AMSEC CE5524 TL-15, High Security Safe has been tested for up to two hours of fire protection at 1850° and successfully maintained an interior temperature of less than 350° for the entire duration of the test!
The AMSEC CE5524 is made in the USA and back by a One Year Parts and Labor Warranty!
| | |
| --- | --- |
| Weight | 2343 lbs. |
| Outside Dimensions | 60.5"H x 55"W x 29.5"D |
| Fill Type | Proprietary High Strength Concrete Mix |
| Fire Protection | 120-minute |
| Burglary Protection (Safe Rating) | TL-15 |
| Customizable | No |
| Lock | ESL10 |
| USA-made or Foreign-made | Foreign made |
| Safe Type | Amvault, Burglary and Fire Safe, Composite Safe, High Security Safe, TL-15 |
| Color Options | Black Textured |
| Texture or High Gloss | Textured |
| Hardware Colors | No Option |
 Additional Features:
UL-certified TL-15 burglary protection
120-minute fire protection
Massive 6″-thick door
3-1/2″-thick body
AMSEC | CE5524V | AmVault | High Security Safe
Sale price

$7,046.25
Regular price

$9,395.00
Buy Now Pay Later. As low as 0% APR financing.
Choose options