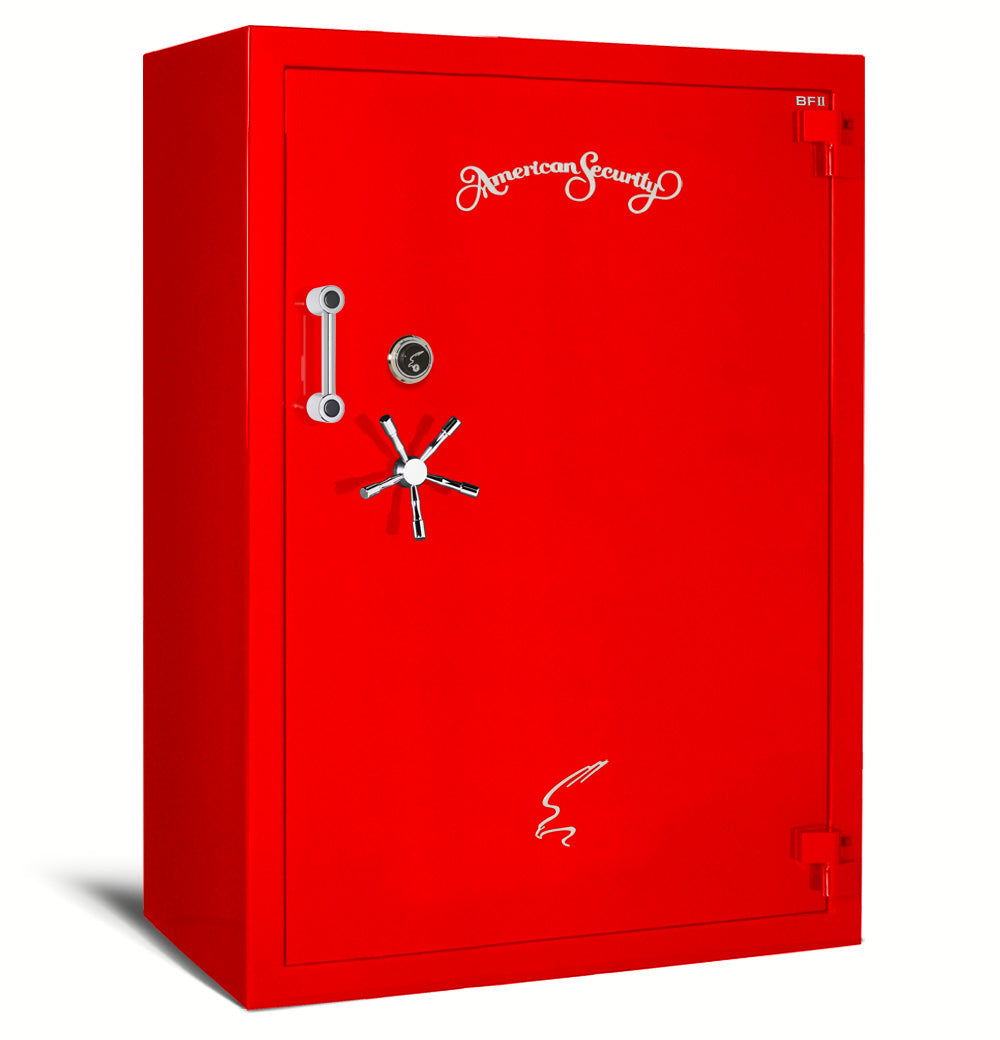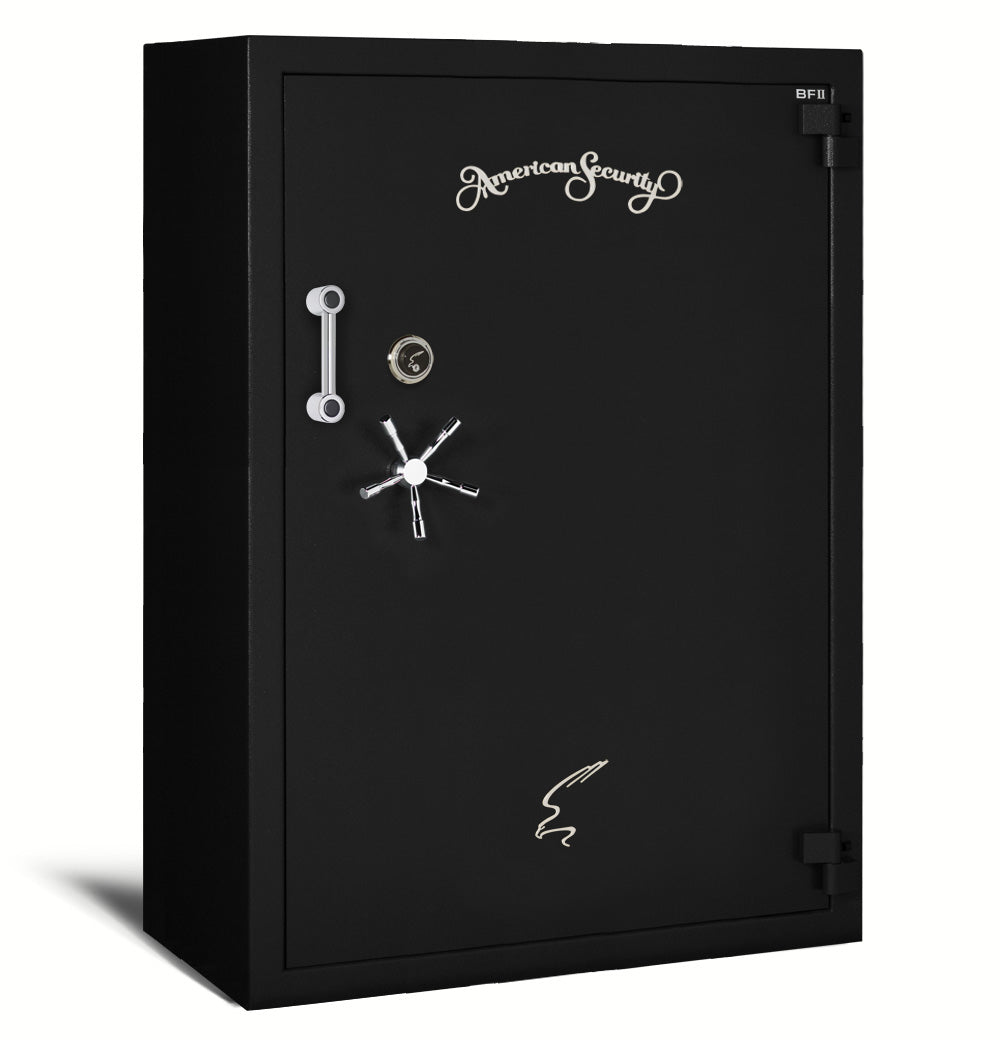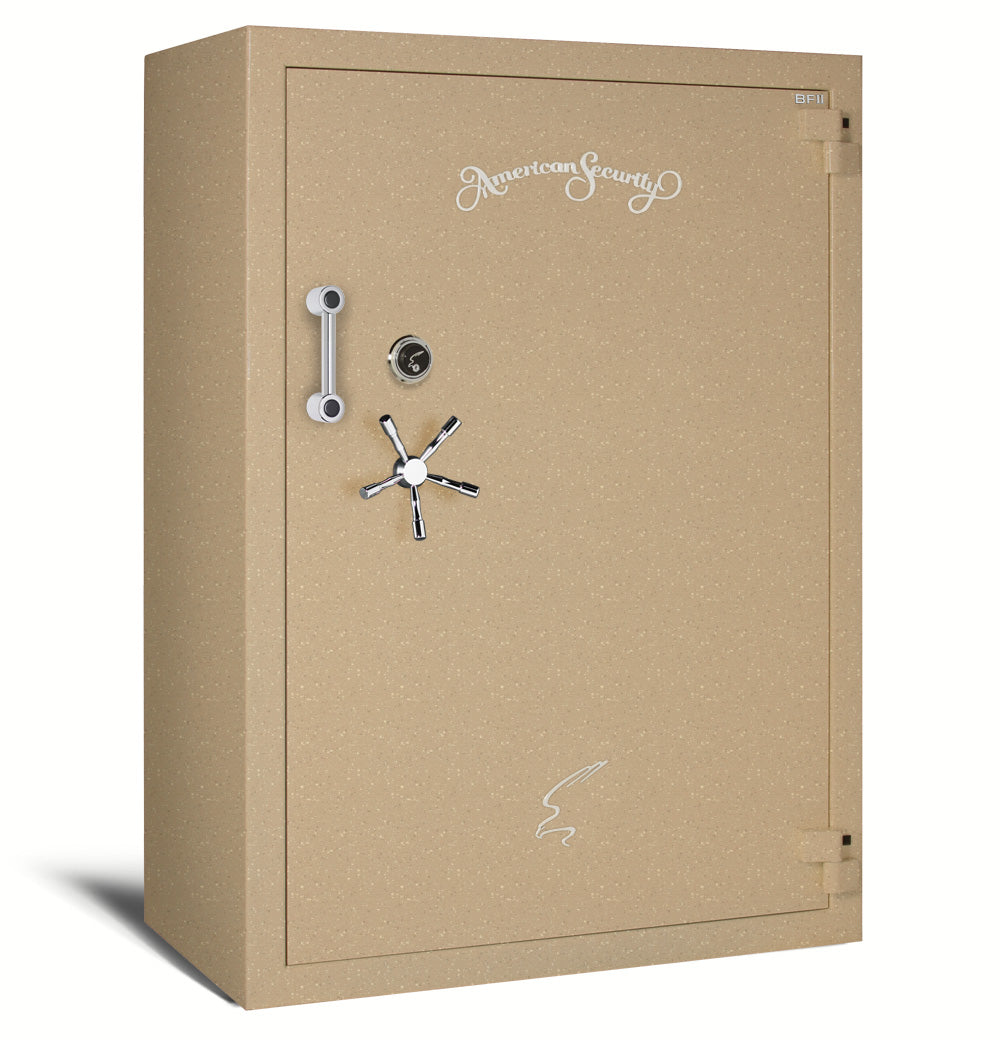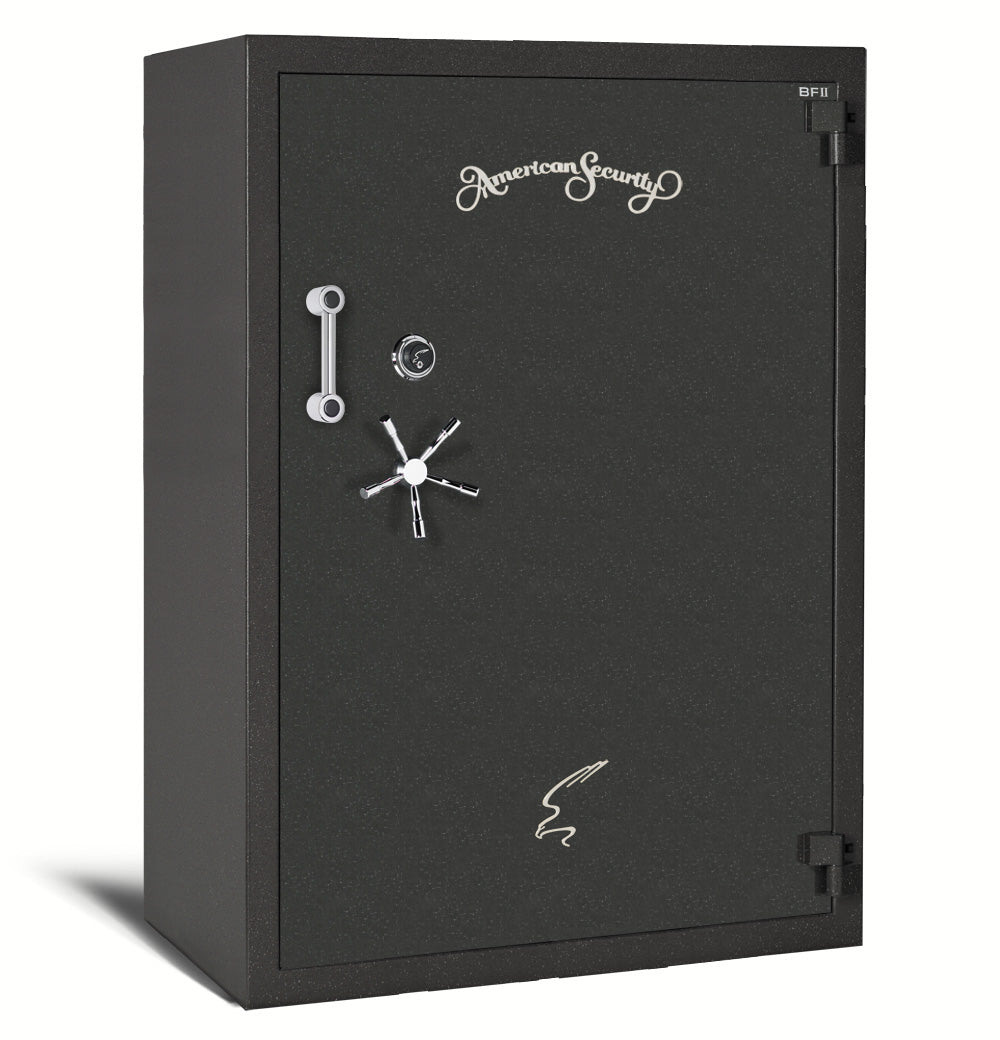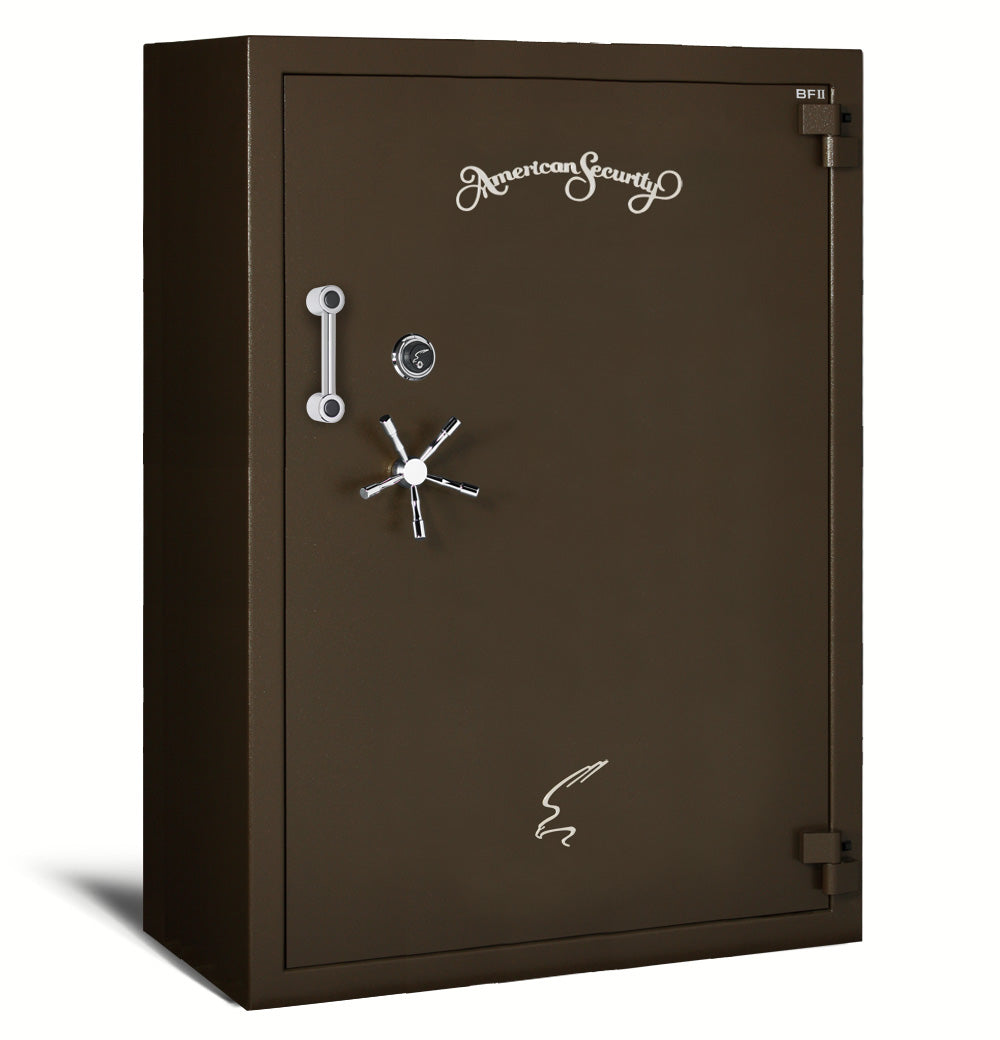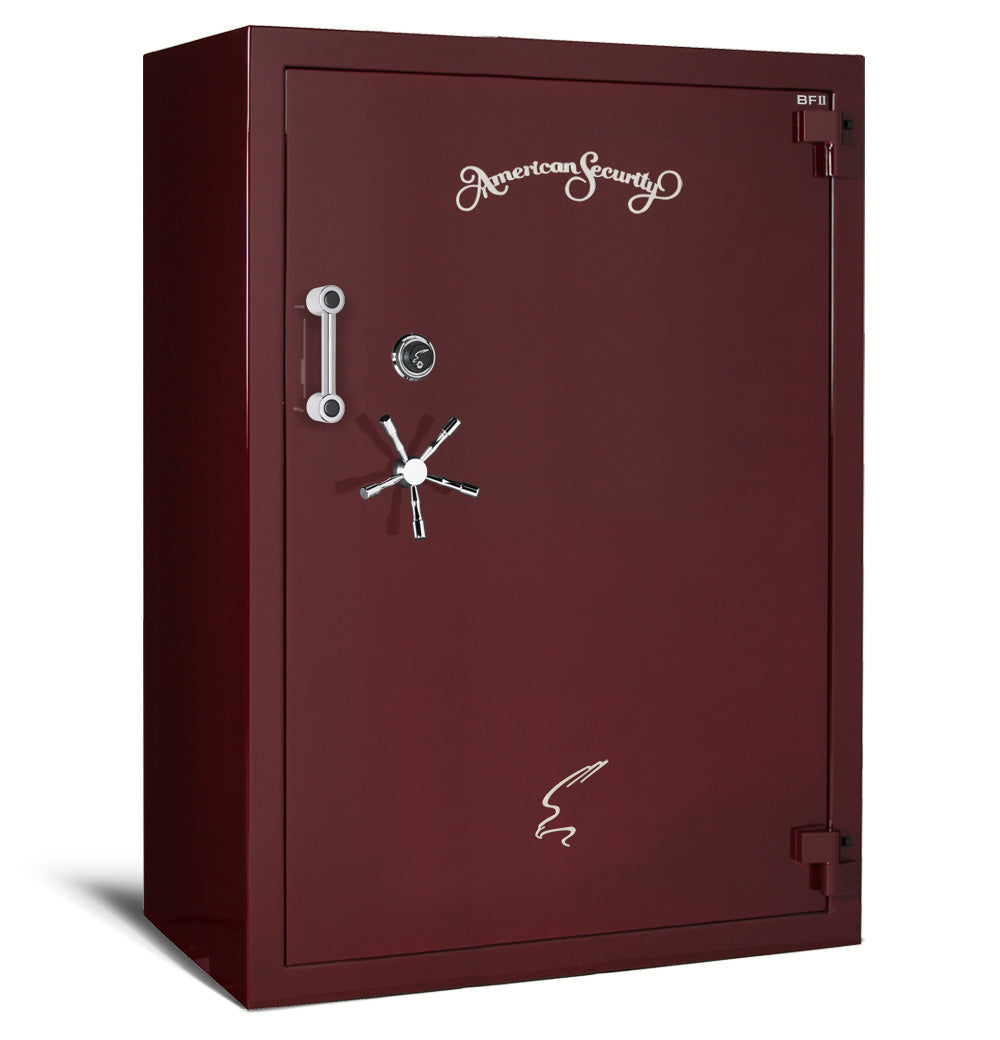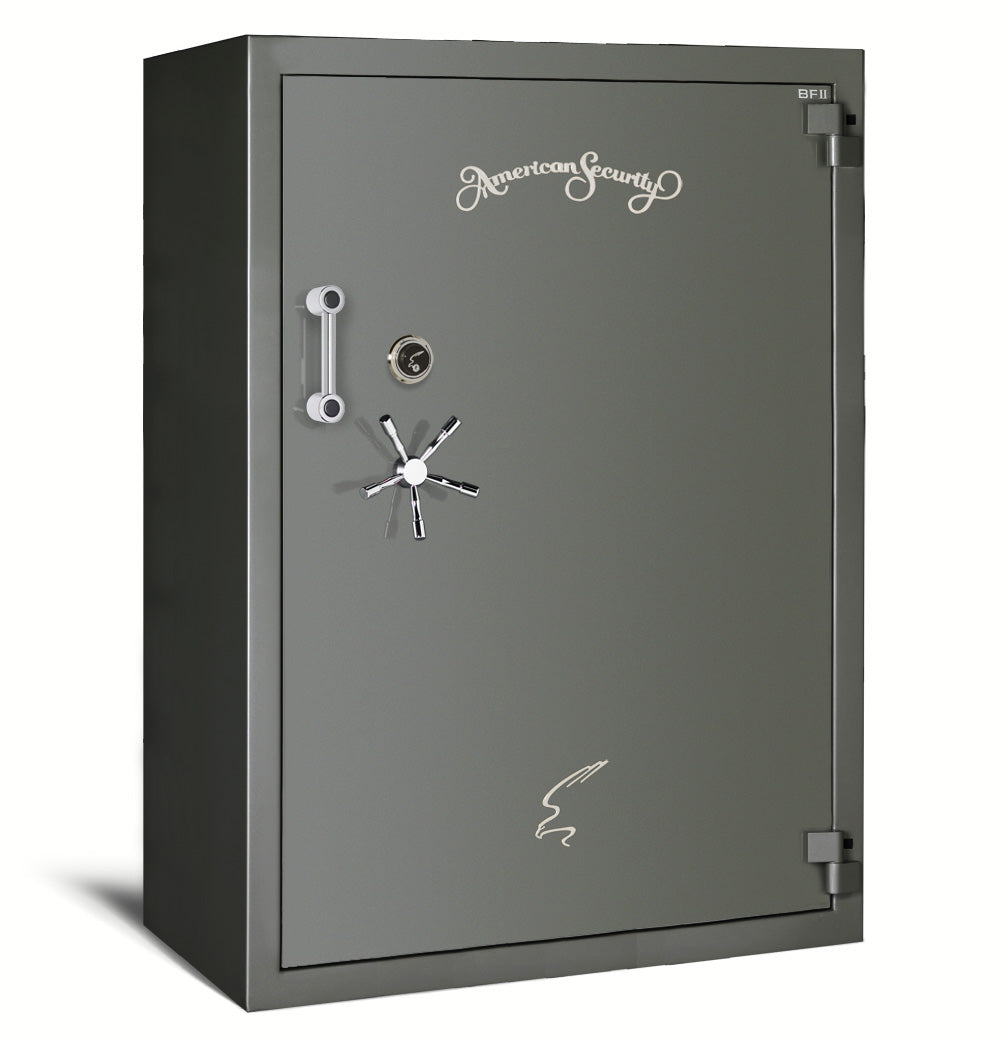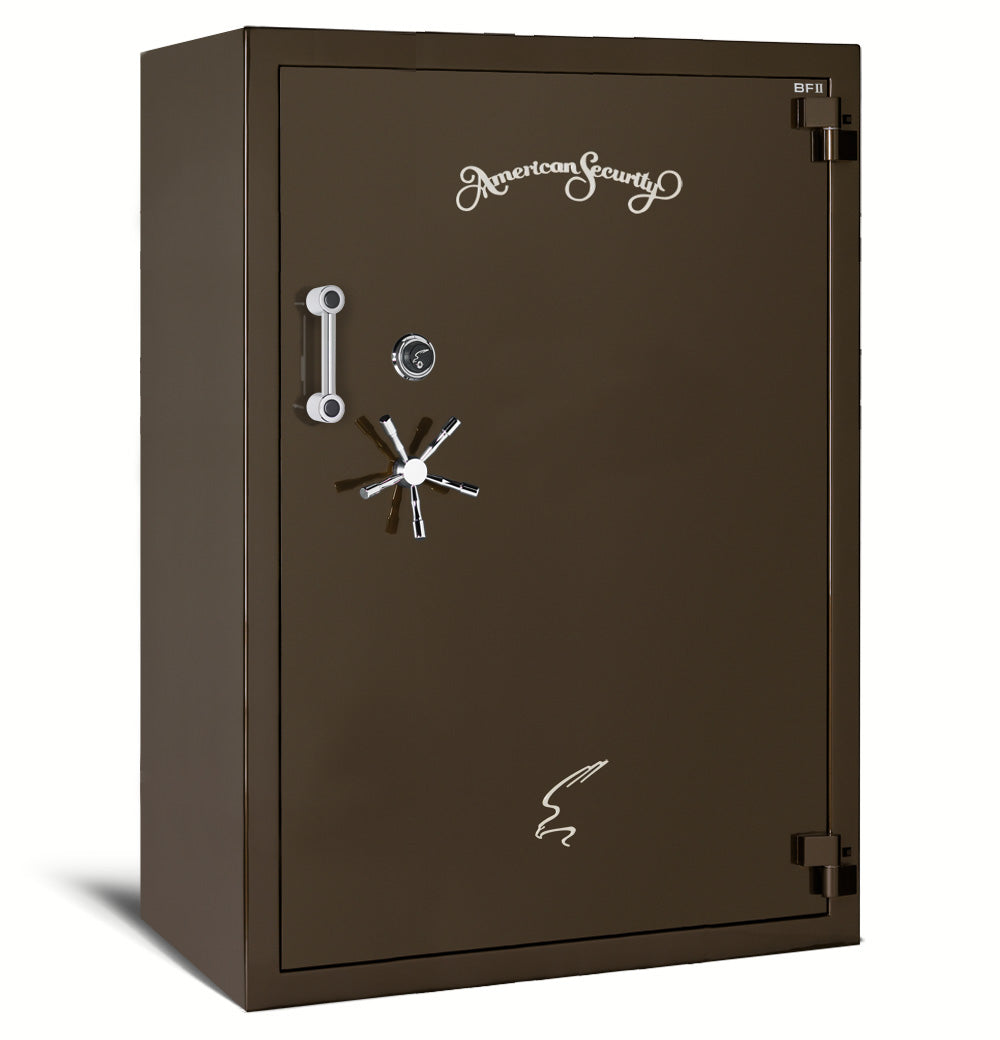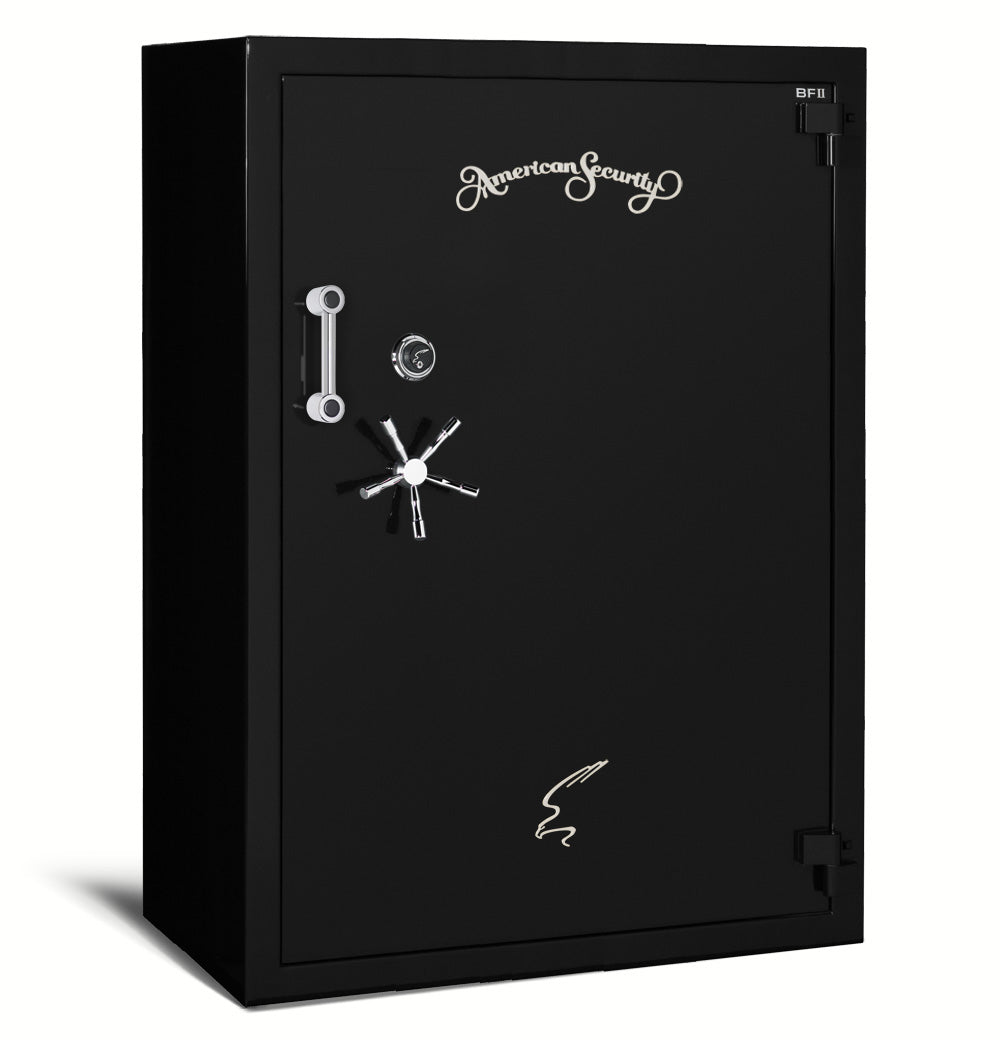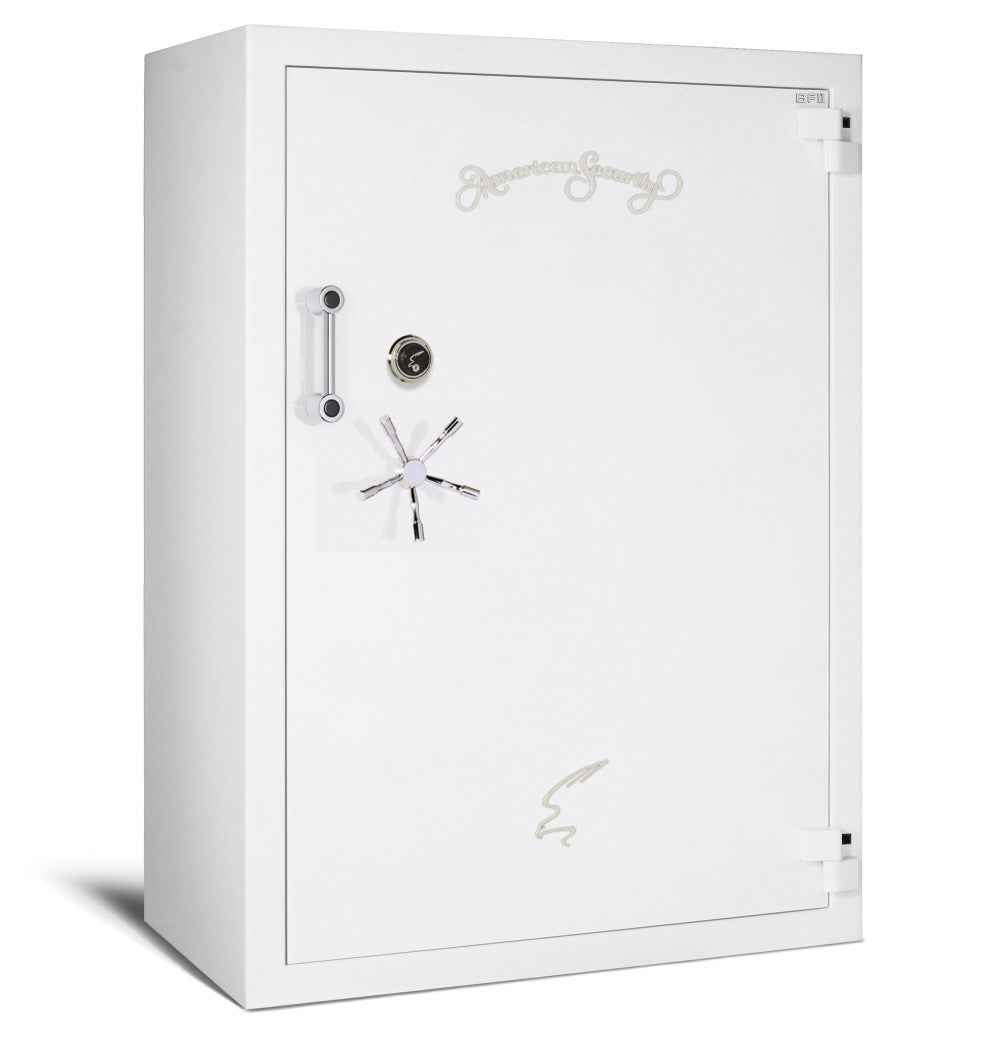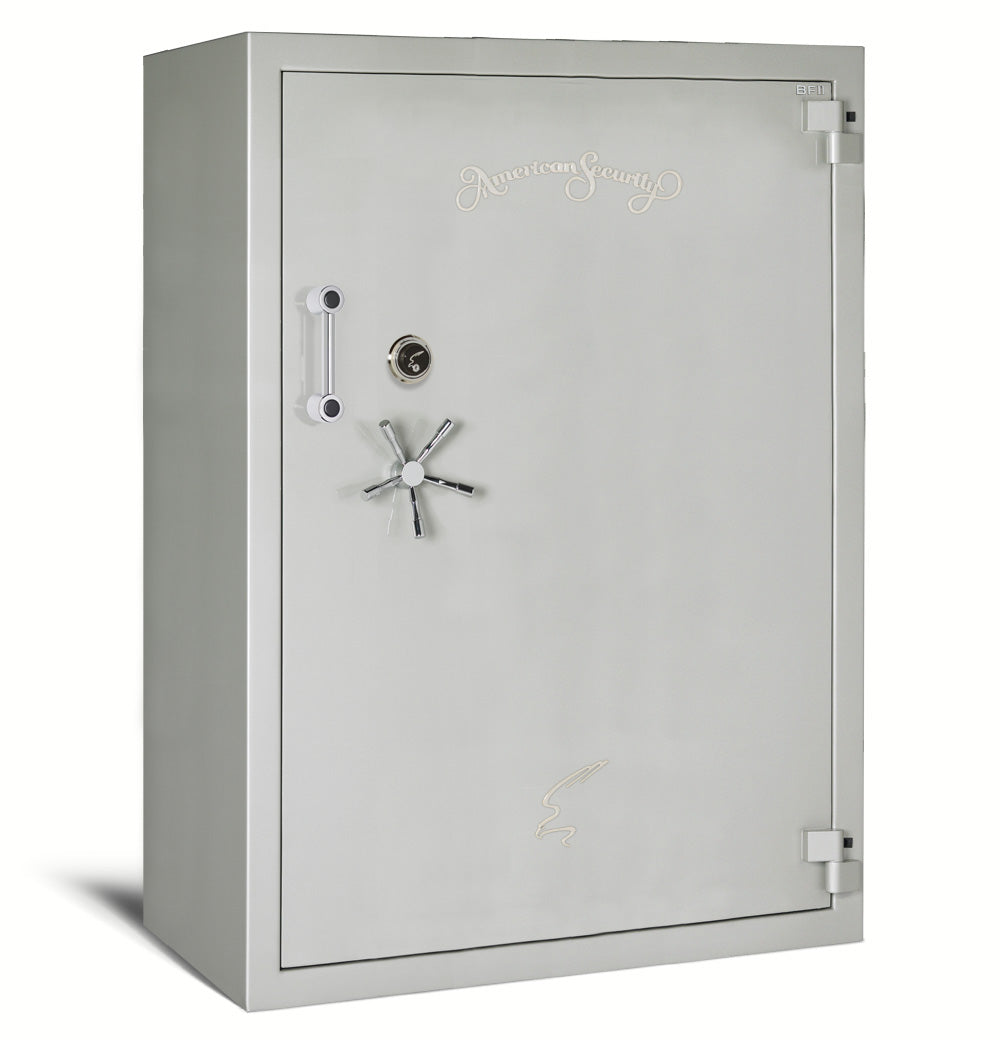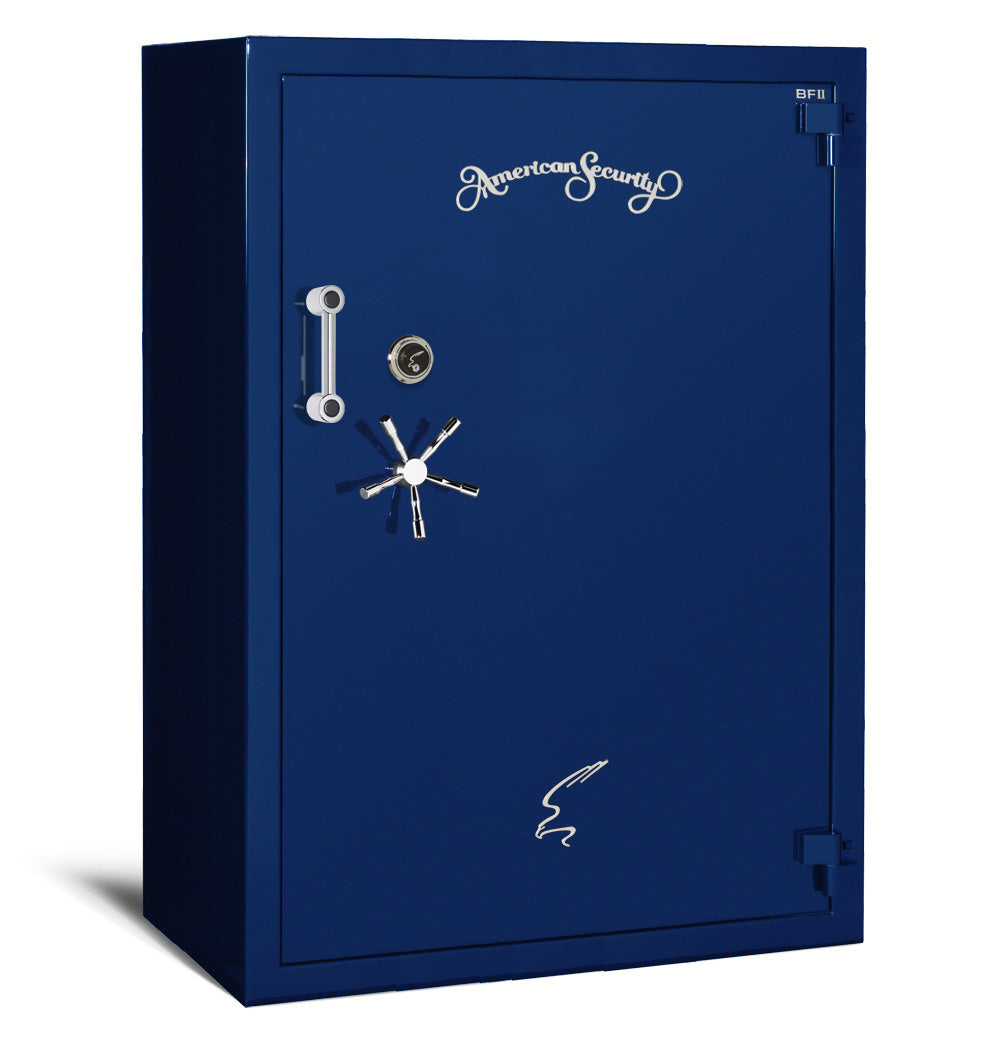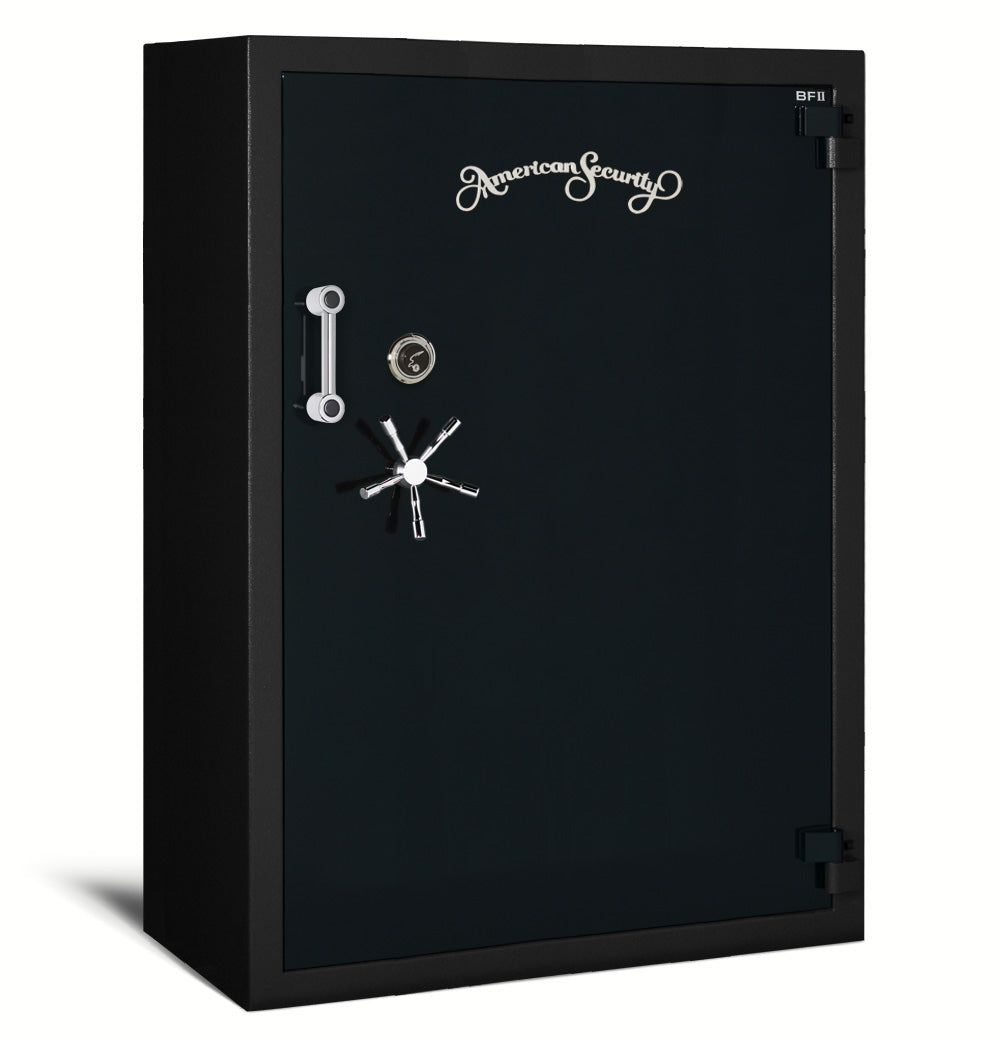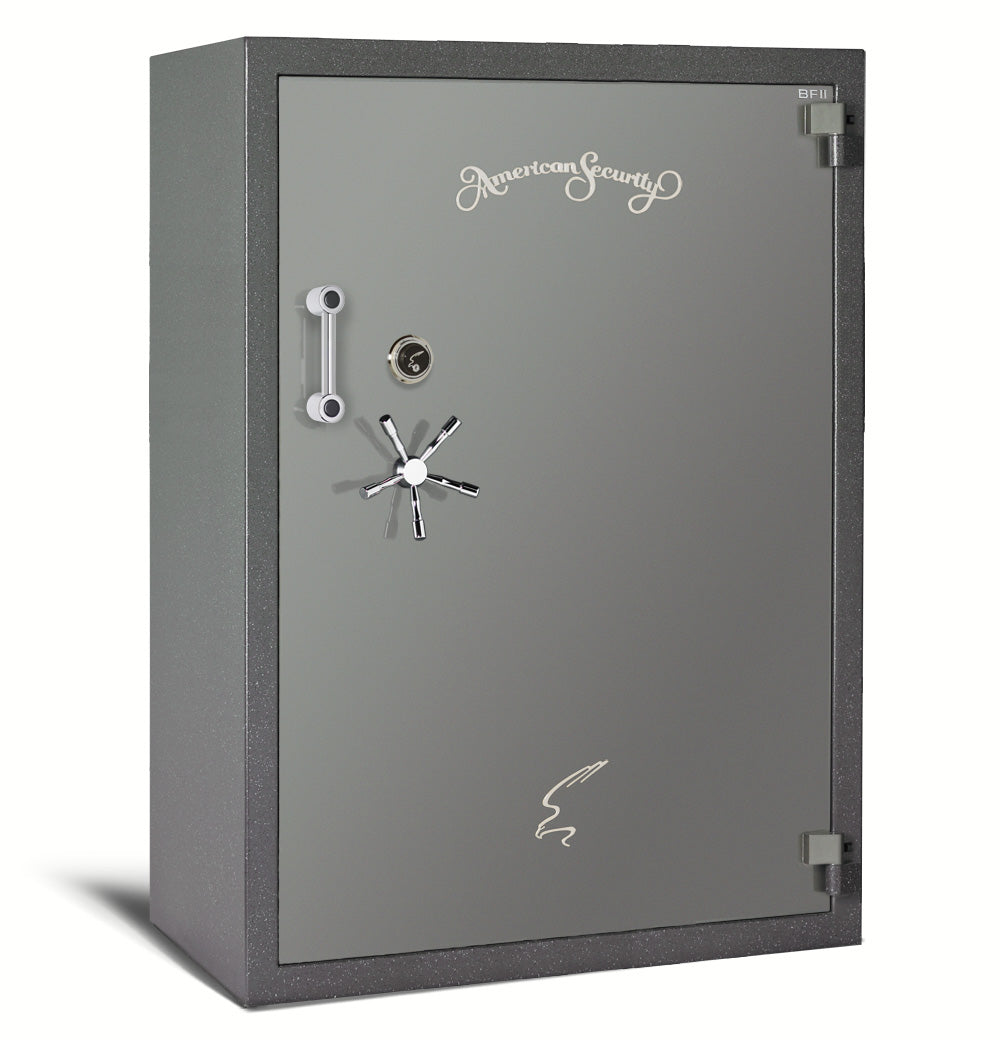 AMSEC | BFII7250 | Gun Safe
Buy Now Pay Later. As low as 0% APR financing.
Looking for a trophy safe?
The AMSEC BFII7250 Gun & Rifle Safe, 2-hour fire resistant RSC Level II rated burglary safe just might be the answer. The AMSEC BFII6024 2-hour fire rated gun safe is one of the most unique safes in the industry. Why? Check it out.
Prices start at $15,900.00 and go up based on the options you choose, such as, color, texture, lock options, and more.
SECURITY
1/2"-Thick Steel Plate Door
2-1/4"-Thick Body with 1/8" outer shell and 5/16" thick inner liner
Combined steel thickness of 1/2" in body construction
UL Level II RSC Burglary Classification (2-Man team, 10-minute test. Utilizes same tools as a TL-15)
American Security's patented active hardplate
TL-15 bolt work with 10 massive 1½" Chrome Plated Bolts
4 Pre-Cut Anchor Holes
Group 2M Lock is protected by a proprietary patented hard plate, dual external relocker and one internal relocker. Optional auxiliary key lock available.
WARRANTY
5-year parts and labor warranty when purchased with a factory installed American Security lock
Special lifetime warranty for damage from burglary attempts and fire
FIRE PROTECTION
Seamless DryLight Fill
120-Minute Intertek Verified Fire Rating
Dual Door Seals to Protect Against Fire and Smoke
FUNCTIONALITY
Industry's Most Flexible Interior
Door Organizer
Storage for Long Guns or Assault Rifles on Door
LED light kit
Mirrored Back for Added Interior Visibility
AC Power Outlet with Removable Cord
| | |
| --- | --- |
| Weight | 2438 lbs. |
| Inside Dimensions | 65.5"H x 46"W x 21"D |
| Outside Dimensions | 71.25"H x 50"W x 28"D |
| Gun Capacity | 14-14-14-28-42 + 2 Gun or 73 + 2 Gun |
| Clear Door | 63.75"H x 45.3125"W |
| Cubic Inches | 63,273 |
| Bolts | 11 |
| Bolt Diameter | 1.5" |
| Steel Door Thickness | 11 Gauge |
| Outer Wall Steel Thickness | 11 ga. |
| Inner Wall Steel Thickness | 12 Gauge |
| Burglary Protection (Safe Rating) | RSC II |
| Fill Type | DryLight |
| Fire Protection | 120-minute |
| Customizable | Yes |
| Safe Type | Gun Safe |
| USA-made or Foreign-made | USA-made |
REAL THEFT SECURITY:
The dual shelled body of the AMSEC fire and theft rated BFII7250 Gun Safe encloses a proprietary DryLight concrete insulation eliminating the use of gypsum board and forming a solid theft barrier from outside attacks. The door consists of a 1/2" steel plate combined with 2" DryLight insulation for barrier from attacks and fire. Because of this manner of construction and the fact that it is equipped with a U.L. listed Group II combination lock and protected by massive hard plate means the safe has been awarded the U.L. Residential Security Container (RSC) Level II burglary classification. This safe has a combined steel thickness of 1/2" in body construction. The inner steel has a 12-gauge formed liner plus a 4-gauge plate liner. This adds 359 pounds from the standard safe and is your assurance of quality and protection. In addition, it uses TL-15 bolt work. It has the same bolt pattern as the AMVAULT TL-15's, 5 active and 5 dead. No top or bottom bolts.
UNMATCHED FIRE PROTECTION
The AMSEC exclusive New DryLight insulation is poured 2 inches thick between inner and outer steel walls for premier fire protection. This process allows an Intertek Laboratory approved fire protection of 1200 degrees F for 2 hours and is designed to maintain an interior temperature of less than 325 degrees F. This process is unparalleled in the gun safe market. Dual fire seals around entire door that include a silicon seal on the door jamb & Palusol seal on the door giving the door a snug fit for added fire protection. The Palusol seal expands up to 8 times its original thickness when exposed to heat.
The AMSEC BFII7250 2 Hour Fire Rated Gun Safe with its maximum 27 total long gun capacity also has 4 pre-drilled anchor holes, that, when used, adds an additional level of security. There is a standard built in internal AC power port with removable external power cord. Included are commercial grade high security exterior hinges for additional security and full access (180 degree opening) to the elegant interior.
The AMSEC fire and theft rated BFII7250 gun safe has a unique mirrored back wall in the interior of the safe providing higher interior visibility. The fully adjustable interior shelves are all upholstered in a pin-dot fabric (standard feature) and the back panel features a Premium Door Organizer (PDO) for additional storage and organization. The outside of the door boasts a spy-proof key locking dial with decorative five spoke handle.
There are many options on the AMSEC Gun Safe BFII7250 2-hour fire rated RSC-Rated burglary safe that include colors, shelving options and special interiors as well as locking options.
Buy Now Pay Later. As low as 0% APR financing.
Choose options